Who wants to work for somebody else anyway?

Every poster you can imagine from one vendor, Allposters.com

Madonna Louise Ciccone, 16 August 1958, Bay City, Michigan, USA. An icon for female pop stars thanks to her proven ability to artistically reinvent herself while still retaining complete control of her career, Madonna is also one of the most commercially successful artists in the history of popular music. The young Ciccone excelled at dance and drama at high school and during brief periods at colleges in Michigan and North Carolina. In 1977, she went to New York, studying with noted choreographer Alvin Ailey and taking modelling jobs. Two years later, Madonna moved to France to join a show featuring disco singer Patrick Hernandez. There she met Dan Gilroy and, back in New York, the pair formed club band the Breakfast Club. Madonna played drums and sang with the band before setting up Emmy in 1980 with Detroit-born drummer and former boyfriend, Steve Bray. Together, Madonna and Bray created club tracks which led to a recording deal with Sire Records. With leading New York disc jockey Mark Kamins producing, she recorded "Everybody", a US club hit in 1982. Madonna broke out from the disco scene into mainstream pop with "Holiday", written and produced by Jellybean. It reached the US Top 20 in late 1983 and was a Top 10 hit across Europe the following year
Coming in April you can listen to her and experience the interactive Queen of pop.
Madonna is by far one of the most talented singers and dancers ever!

Mammoth Mountain is one of the best ski areas in the United States. I have skiied Alberta, Colorado, New Mexico and Utah. I have to say spring skiing, yikes! Lots of pretty girls in bikinis?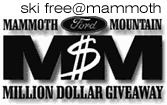 When you get the feeling for snow skiing Mammoth is the bomb..
Book your next ski vacation with the professionals with the very best prices going at Orbitz, click the banner.
Interactive Pink Floyd coming soon.